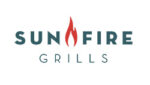 Sunfire | Grills & Outdoor Kitchen Equipment
Learn More About Sunfire ....
SunFire Grills bring premium craftsmanship and durability at an honest price. From their use of superior materials and unbeatable warranty SunFire is in a class of its own. Offering exterior and interior lights, ceramic flame tamers, cast stainless burners and much more the Sunfire is a true workhorse. SunFire Grills are built to last and out preform the competition, making it a great choice for any griller.

Constructed in all #304 stainless steel
Designed with careful precision
Optimal airflow and even heating
Front Panel LED lighting
Included rotisserie kit & backburner
Lifetime Warranty
Learn More About Sunfire Grills...
Interior and exterior lighting, flavor-enhancing ceramic flame-tamers, and heat separators for optimal control make gourmet grilling easy. With an unbeatable warranty, this is quality you can trust. Beauty, durability and muscle come together to create this truly high performance grill.
Constructed in all #304 stainless steel
Designed with careful precision
Optimal airflow and even heating
Front Panel LED lighting
Included rotisserie kit & backburner
Lifetime Warranty