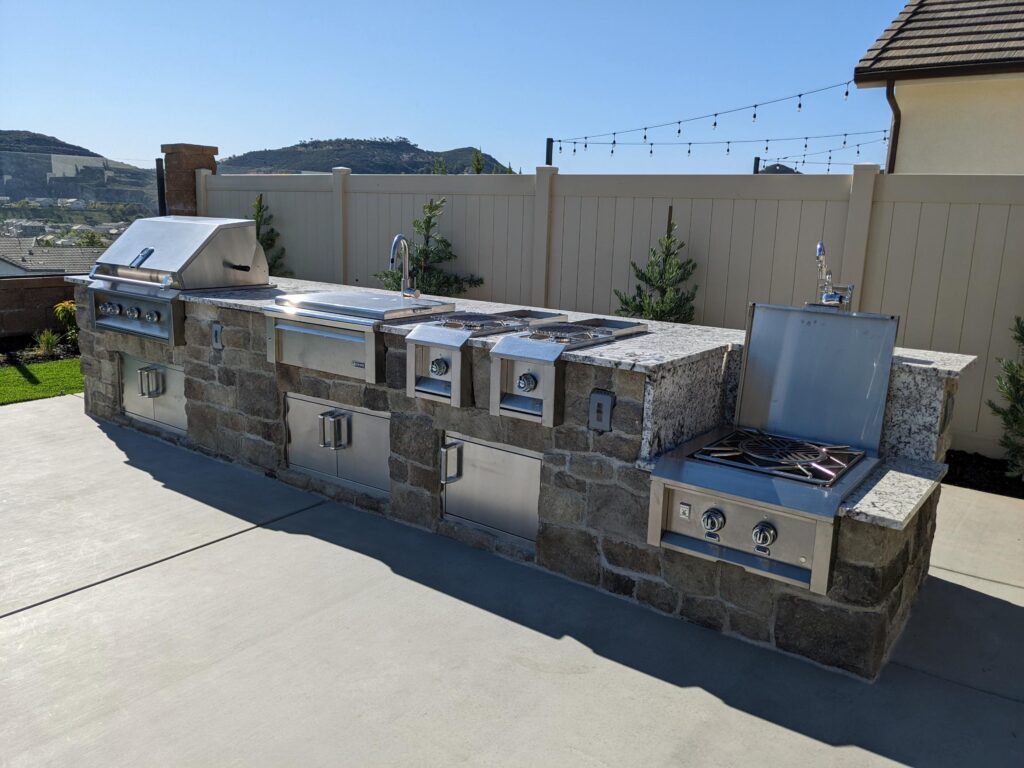 Nothing beats a BBQ island when it comes to outdoor cooking and backyard entertaining. A well designed BBQ island draws friends and family to your yard as the hub to your outdoor entertaining. At the BBQ Grill Outlet, we are proud to help our customers design the perfect outdoor BBQ island.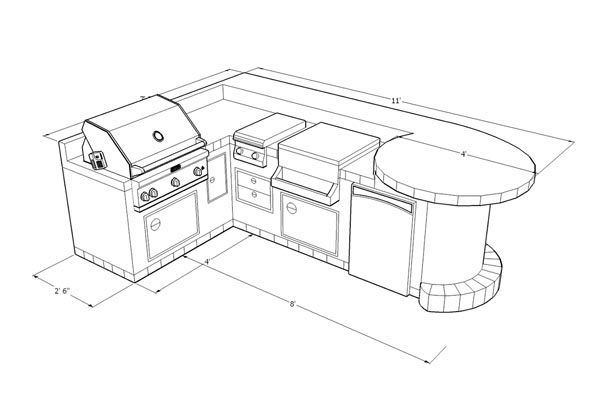 BBQ Island Designs
Our islands are never pre-fabricated. Unlike others, we design something custom made for your backyard. While we build the island in our shop, we deliver it to your property in sections, leveling and finishing it right there for the best installation. Our process keeps the disruption to your yard at a minimum, typically about four trips to complete the job. The options are endless when it comes to custom BBQ islands. Every backyard is a little different, and you deserve something unique. We'll gladly take time to design a product that is tailored to your vision. Expect to spend somewhere between $5,000 & $30,000 for a fully finished BBQ island. The quality of the grill, the island size and finish materials you select will determine if the price is in the higher or lower price range.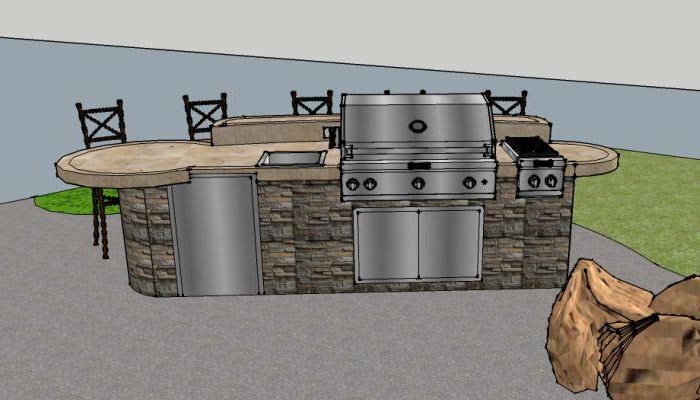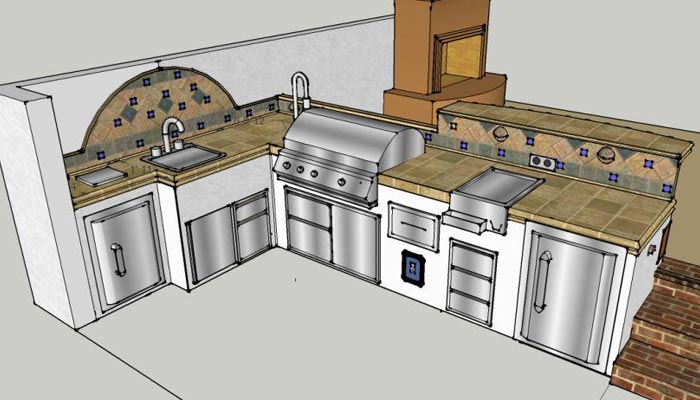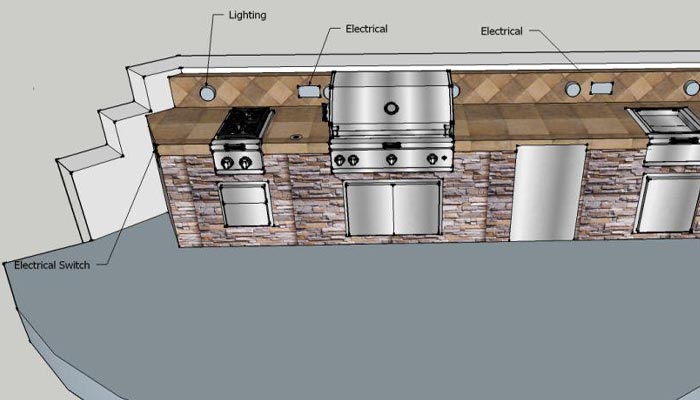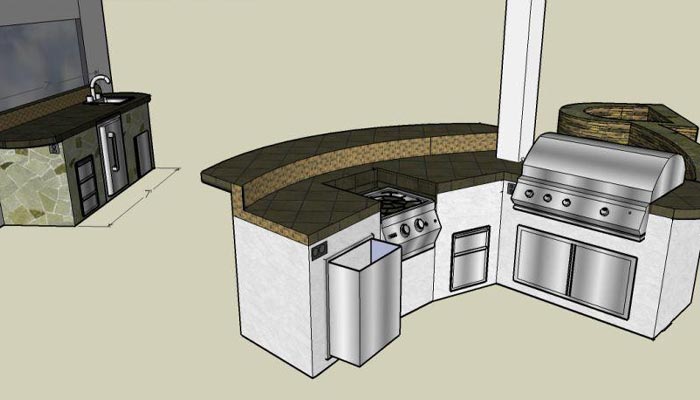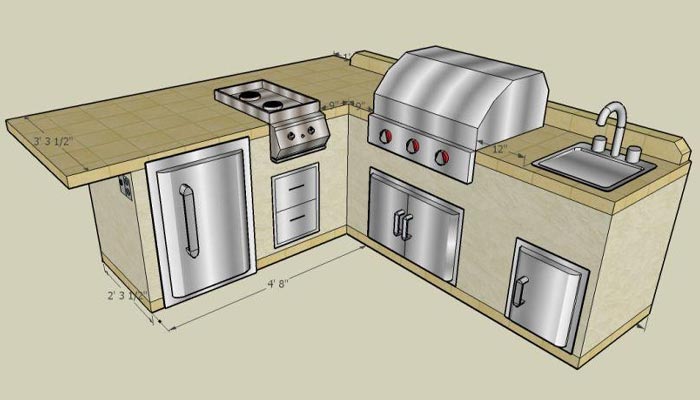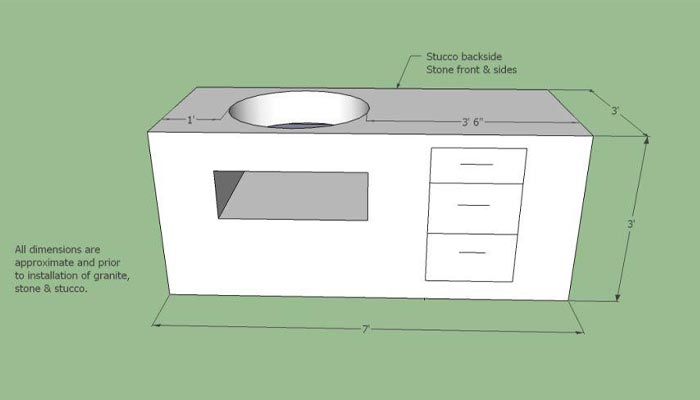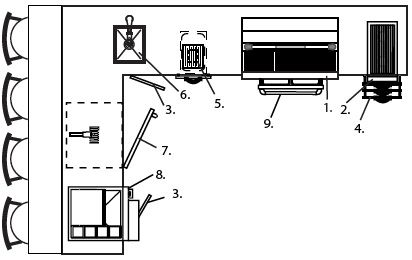 Dreaming & Planning
There are so many options for shape, size, and finish work for BBQ islands that it's not an easy task to design the perfect BBQ island. Luckily, our experience with building 100+ projects a year helps to simplify the process. Our design service is free and we can help you plan a BBQ island that's perfect for your backyard and your budget. Major design components to consider include:
How Much Does A BBQ Island Cost?
Asking how much a custom BBQ island costs is like asking how much a car costs. There are clunkers, and there are Bentley's. Most people will spend between $8,000 and $20,000+ for their BBQ island. Here are 5 things that make a big difference in the price:
Import Grill ($1,300 to $4,000) vs. Value Grill ($1,800 to $5,600) vs. Premium Grill ($5,000 – $10,000+)
Solid counter tops (slabs) vs. porcelain or granite tiles
Stucco sides vs. stacked stone on the sides
Appliance count; more appliances mean a higher price
Bar seating & tables add to the cost
Designing your outdoor kitchen may seem like a daunting task. The are so many shapes, styles, and kitchen components to choose from it may seem overwhelming. In an effort to help you understand the different components that go into building an outdoor kitchen, we recommend visiting one of our stores to speak with our expert designers.​ The BBQ Grill Outlet builds BBQ islands that can turn a home into a backyard paradise. Come by one of our stores today to start designing your island. And remember our design service is always free!