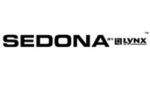 Sedona by Lynx - Grills & Outdoor Kitchen Equipment
Inventory Available While Supplies Last - Sedona is Temporarily Unavailable
Browse these similar brands below.
Learn More About Sedona by Lynx....
Sedona by Lynx perfectly blends quality, styling and performance providing the consumer years of enjoyment. Its sleek design and polished welds make it a standout from the competition. Sedona's pro-sear offers temperatures ranging from 200 to 1000 degrees making it one of the most adjustable sear zones on the market. Sedona uses high BTU U-shaped burner with their one-of-a-kind briquette tray to provide even heat throughout the grill. Proudly made in the USA Sedona offers a full line of products to meet your needs.

Precise power—one ProSear™ Infrared Burner
Consistent assurance—direct spark ignition
Perfect clarity—dual halogen grill surface lights
Easy opening—Lynx Hood Assist
Watch Video on Sedona by Lynx
Sedona by Lynx Top Categories
Browse Sedona by Category
Learn More About Sedona by Lynx Grills...
Easy, stylish and natural. Stunning to the senses. From simple foods, simply prepared, to luxurious cuisine crafted with flair. It's comfortable, clever and organic. It's spices with spirit, sauces that soothe.
Precise power—one ProSear™ Infrared Burner
Consistent assurance—direct spark ignition
Perfect clarity—dual halogen grill surface lights
Easy opening—Lynx Hood Assist