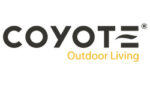 Coyote | Grills & Outdoor Kitchen Equipment
Learn More About Coyote....
Coyote Outdoor takes the stance of why sacrifice quality and features for price point? They continuously strive to provide the best products and performance for the cost. Coyote uses a high grade 304 stainless steel on all of their products which provides durability for years to come. Their impressive infinity and rapid sear burner provide ample heat and control to match any grillers skill. Coyote Outdoor offers a full line of products to compliment your own backyard oasis.

Heavy duty cast high performance Coyote Infinity Burners™
Large cooking area
Complete 304 stainless steel construction
Interior grill lighting
Optional wind guard
Learn More About Coyote Outdoor...
Product performance is an extension of our passion. We believe that the preparation of food and drink brings people together, sparks creativity, and is a source for comfort and relaxation. Coyote Outdoor Living's products are designed with precision, power and durability to give you and your loved ones the space and freedom to pursue your outdoor passion to the utmost.
Heavy duty cast high performance Coyote Infinity Burners™
Large cooking area
Complete 304 stainless steel construction
Interior grill lighting
Optional wind guard