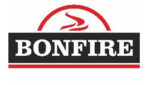 Bonfire Outdoor | Grills & Kitchen Equipment
Learn More About Bonfire ....
Launched in 2014, Bonfire Outdoor is focused on putting quality first. Using laser cut technology and high-grade materials Bonfire produces a great grill for a fair price. The Bonfire grill features internal and external lights for those late-night cooks. Their 15,000 BTU burners and complimentary rotisserie can meet the needs from the novice to professional cook. Offering a wide variety of products Bonfire Outdoor is a great company to complete your dream yard.
304, 14 Gauge Stainless Steel Construction
4 Porcelain Coated Burners 15,000 BTUs each
Single Piece Dual Lined Hood
Solid Stainless-Steel Grates
CSA Approved
Bonfire Outdoor - Top Categories
Learn More About Bonfire Grills...
At BONFIRE, we believe that quality always comes first. The latest laser cutting technology allows us to create the perfect shape of our products. High gauge 304 stainless steel in grills and whole piece granite or marble on islands provide tremendous strength and durability for outdoor use.
304, 14 Gauge Stainless Steel Construction
4 Porcelain Coated Burners 15,000 BTUs each
Single Piece Dual Lined Hood
Solid Stainless-Steel Grates
CSA Approved