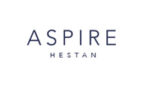 Aspire by Hestan | Grills & Outdoor Kitchen Equipment
Learn More About Aspire by Hestan....
Aspire by Hestan uses the highest-grade materials available to bring one of the finest grills to market. Aspire utilizes features only found in premium grills without the premium price tag. Their high BTU U shaped burners, two-sided briquette trays and hot surface ignitors are typically found only in luxury grills. Aspire also offers color options making it one of the most customizable grills on the market. Aspire by Hestan stands behind their grill offering an industry leading warranty. Aspire is proudly made in the USA and is an excellent choice to exceed your open-air cooking expectations.

Commercial quality 304 cast stainless steel burners
Heavy 9mm triangular stainless steel cooking rods
Blaze Grills offers an impressive Lifetime Warranty
Double-lined grill hood
Illuminated control knobs
Illuminated interior lights
Shop Aspire by Hestan - by Category
Learn More About Aspire by Hestan Grills...
Grilling is sky blue freedom. Your time. Your people. And Aspire is your oasis – a complete outdoor kitchen finely-tuned to tune out the real world. High-performance burners. Precision control. Heavy-duty construction. And cold refreshment always at the ready. We took the stress out of grilling. So you can actually enjoy the party yourself. No fiddling and fussing. Just ignite for an instant vacation.
Aspire by Hestan - Features
Commercial quality 304 cast stainless steel burners
Heavy 9mm triangular stainless steel cooking rods
Blaze Grills offers an impressive Lifetime Warranty
Double-lined grill hood
Illuminated control knobs
Illuminated interior lights