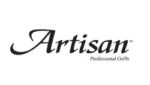 Artisan | Grills & Outdoor Kitchen Equipment
Learn More About Artisan Grills....
Artisan has been able to perfect the balance of quality, style, performance and most importantly, value. Artian Grills are pridefully made in California by Alfresco Open-Air Culinary Systems. Artisan's robust 304 stainless-steel construction, high BTU U-shaped burners and electro-polished non-stick grates provide the user a luxury grilling experience. Artisan uses the same ceramic technology found in Alfresco grills to provide some of the most even heat distribution on the market. Artisan is a great choice for the amateur cook to the professional. Check out their full line of products and complete your outdoor kitchen today.

15,000 BTU infrared rear-rotisserie burner
110V electronic ignition
Bright halogen work light
2-position warming rack
Browse Artisan by Category
Learn More About Artisan Grills...
Alfresco Open Air Culinary Systems is based in Southern California. All products are made and manufactured in the USA with the finest grade materials. Superior Equipment Solutions, the parent company, also manufactures the Artisan residential brand as well as several well- established commercial brands.
15,000 BTU infrared rear-rotisserie burner
110V electronic ignition
Bright halogen work light
2-position warming rack