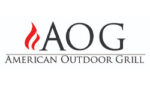 AOG | Grills & Outdoor Kitchen Equipment
American Outdoor Grill offers quality, reliability and performance at a budget conscious price point. AOG combines high-grade stainless steel, brass valves and powerful U-shaped burners to provide the user an ultimate grilling experience. Using a flat cast stainless steel cooking grid, the AOG leaves some of the most satisfying grills marks a grill can produce. Its satin finish, rounded hood and sleek design make it the show piece of your open-air kitchen. American Outdoor Grill is proudly made in the USA by Fire Magic and offers a full line of products to complete your dream kitchen.
Commercial quality 304 cast stainless steel burners
Heavy 9mm triangular stainless steel cooking rods
Blaze Grills offers an impressive Lifetime Warranty
Double-lined grill hood
Illuminated control knobs
Illuminated interior lights
Learn More About AOG Grills...
American Outdoor Grills are made with a stylish sleek appearance. The rounded hood and contoured face feature a satin finish that enhances any outdoor kitchen. The AOG grill is constructed from the finest commercial-grade stainless steel and features a large cooking surface with stainless steel rod cooking grids and sleek analog thermometer for precision grilling. With its recessed backburner, warming rack, spit rod and motor, the American Outdoor Grill allows you to create any meal outdoors.
American Outdoor Grills - Features
Commercial quality 304 cast stainless steel burners
Heavy 9mm triangular stainless steel cooking rods
Blaze Grills offers an impressive Lifetime Warranty
Double-lined grill hood
Illuminated control knobs
Illuminated interior lights